Fit Over 50 Female Fitness Competition Prep
Have you ever dreamed of stepping on a fitness stage in the absolute best shape of your life?  Crystal shows us how our fit over 50 female fitness competition prep worked for her.  I personally had the opportunity in working with crystal multiple times.  She is a hard worker and when she makes a commitment she gives her all.  The results speak for themselves!! So proud of you Crystal.  You are an inspiration for so many.
Transformation Motivation:
My initial transformation happened at age 48. I had not been happy with how I looked for some time. I was an athlete throughout my high school/college years and have always been active, for the most part, injury free but still not fully satisfied with my body or my health. I wanted to be healthy, I wanted to be fit. I tried other programs; however, they did not provide the results, education or training I was looking for to maximize my results and sustain/maintain the gains I had Initially won. I just wanted to lose some weight and feel better (physically, spiritually and emotionally).  All these factors lit a fire under me to get serious about my health and well-being.
Fast Forward to 2021…
A lot has happened since my initial weight loss transformation in 2016 and my fitness model transformation in 2017. Fast forward to 2021… The passion to take my body to the next level and the desire to pay it forward pivoted my journey to not only becoming a professional natural bodybuilding competitor, earning my professional status and my Pro Masters Women's Physique title in 2018 at age 49 but becoming a NASM certified personal trainer.
I worked with HitchFit and went through two different programs: the Build Muscle Program and then working with Micah for my Contest Prep. I competed this Fall and while I did not earn 1st place, I did place second and came in the best shape ever at age 53, gaining muscle mass and successfully hitting 11% body fat.
Stats throughout my journey:
2016 – initial Transformation
My Starting Weight: 161 lbs.
My Starting Body Fat: 33.9%
Finishing Weight: 137.4 lbs.
Finishing Body Fat: 25.4%
2017 – Fitness Model Transformation
Starting Weight: 137.4 lbs.
Starting Body Fat: 25.4%
Finishing Weight: 117 lbs.
Finishing Body Fat: 12%
Crystal's 1st Big Transformation
2021 – Build Muscle and Contest Prep Transformation
Starting Weight: 136 lbs.
Starting Body Fat: 25.4%
Total Muscle Mass: 109 lbs. lean mass and six-pack abs
Finishing Weight: 115 lbs.
Finishing Body Fat: 11%
Female Fitness Competitor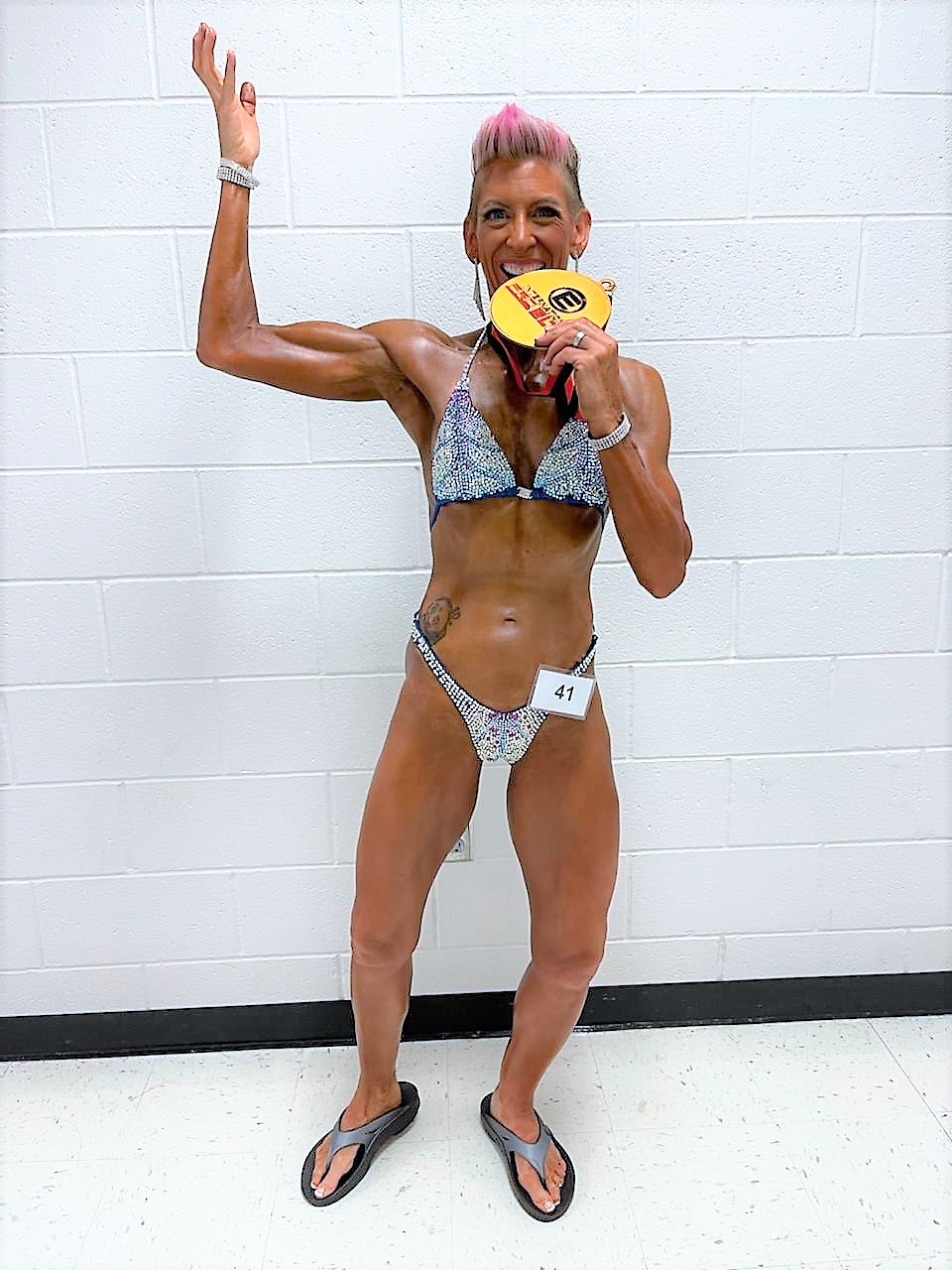 Biggest Take-Away: (Lessons Learned)
The biggest take-away for me was the eating routine. Not only during my initial transformation but as part of the building muscle program. Exercising was not the hard part for me in terms of continuing these new healthy lifestyle habits. It was the eating; being cognizant of what I was eating, how much I was eating, when I was eating… this was all very different than what I had been accustom to in the past. I learned that it is not only important to know what you eat, but how your body uses what you eat and why and when it is the most beneficial time to eat for your body to get the most bang for its' buck.  That is key and is a game changer!
Fitness Competition
 (What's Next)
Today I am a better version of myself. I am healthier than I have ever been in my entire life. At age 53, I am the healthiest I have ever been. I have learned a whole new way of healthy living: eating right and exercising. I have become a professional bodybuilder. I earned my certification as a Personal Trainer and strive to pass on all this knowledge that I have gained to others. My family my friends and trainers are very supportive – which is a key part of the journey. I hope to become a sponsored fitness model and continue to inspire others on their fitness journey.
Fit Over 50
Program Choice: Competition Prep Plan